Tataki refers to a Japanese method of preparing fillet of beef, in which the meat is lightly seared, marinated, sliced thinly similar to sashimi, and served with a citrus-soy dipping sauce.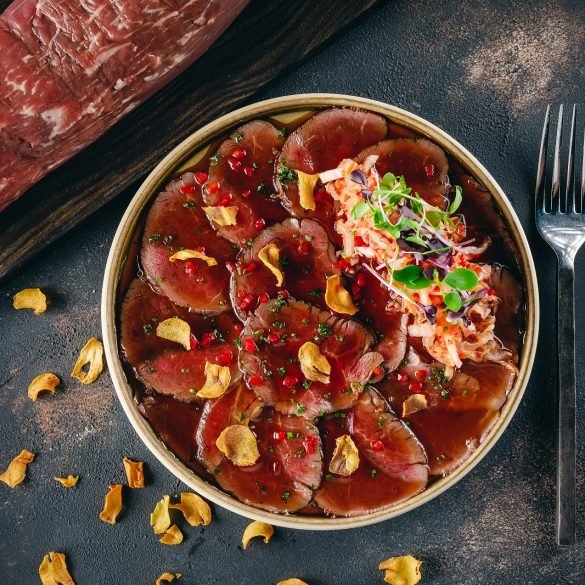 Ingredients
500 g fillet steak
small handful of shiso leaves
small handful of mizuna leaves
1 tablespoon pickled ginger (julienned)
1 tablespoon daikon (julienned)
1/2 red chilli (julienned)
1 spring onion (finely sliced)
sancho berries or sancho pepper
80 ml Japanese soy sauce
10 g freshly grated wasabi
Malson sea salt flakes
Instructions
Season the fillet steak with salt and leave it to rest about 10minutes at room temperature. Heat a flat griddle or a heavy-based frying pan until smoking hot. Sear the beef for 1 minute on each side - it should be rare on the inside.
Slice the steak 5mm thick and place straight on to a bed of the shiso and mizuna in a circular fashion.
Garnish with thee pickled ginger, daikon and red chilli, and finely sliced spring inion. Season lightly with freshly ground berries or sancho pepper.
Mix the Japanese soy sauce with the freshly grated wasabi and serve on the side, for dipping.
Did You Make This Recipe?
How you went with my recipes? Tag me on Instagram at
@PenciDesign.