I'm not a great fan of fillet steak: there's not enough texture or flavour for my liking. However, this is a splendid use of fillet that makes a great starter. As always, using the correct ingredients will pay dividends – freshly crushed black peppercorns, for instance.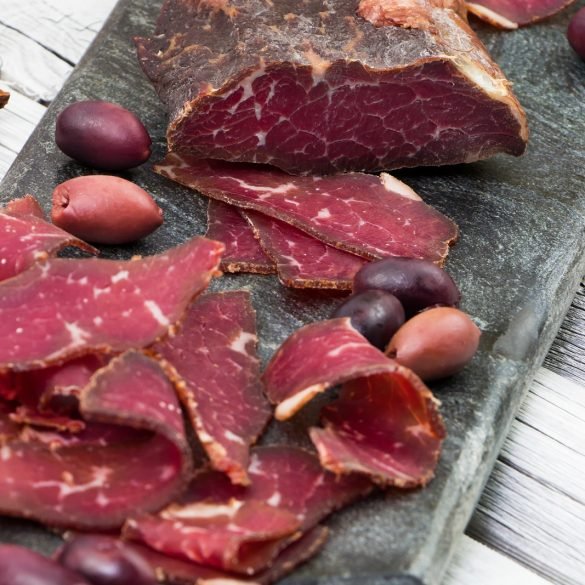 Ingredients
250 g Maldon sea salt flakes
250 g light muscovado sugar
100 g freshly grated horseradish
1 garlic clove (crushed)
10 rosemary sprigs
1 kg fillet steak (barrel or centre cut)
50 g freshly cracked black peppercorns
meat-curing muslin sleeve or stockingette
To serve
Beet Kraut
finely chopped preserved lemon
Instructions
To make the curing mixture, m

ix the salt, sugar, horseradish, garlic and rosemary and let it dry on a tray overnight.

Remove excess fat and nerves from the meat and grate the meat with the dried

.
3. Scatter 1cm of the curing mix into a tray and place the beef on top. Cover this with another layer of the mix, then cover the tray, pop it into the fridge and leave to cure for about 36 hours, turning the meat every 12 hours.
When the beef has cured, remove it from the mix and brush off any excess. Roll the fillet in freshly cracked black pepper, then wrap in a muslin sleeve\stockinette and hang up in a cool place to air-dry overnight.
Unwrap, slice thinly and serve with Beet Kraut and finely chopped preserved lemon.
Did You Make This Recipe?
How you went with my recipes? Tag me on Instagram at
@PenciDesign.